Terrorist or Freedom Fighter? Ernesto "Che" Guevara
His symbol of rebellion has become commonplace in pop culture, but few understand the complexity behind the face. Who loves him? Who hates him? We explore Che Guevara
Ernesto "Che" Guevara was an Argentine Marxist revolutionary whose face became the symbol of liberation and freedom for some, but hopeless desperation, fear and anger for others. Best summed up by biographer Dr. Peter McLaren,
The discovery of Che's remains metonymically activated a series of interlinked associations—rebel, martyr, rogue figure from a picaresque adventure, savior, renegade, extremist—in which there was no fixed divide among them. The current court of opinion places Che on a continuum that teeters between viewing him as a misguided rebel, a coruscatingly brilliant guerrilla philosopher, a poet-warrior jousting at windmills, a brazen warrior who threw down the gauntlet to the bourgeoisie, the object of fervent paeans to his sainthood, or a mass murderer clothed in the guise of an avenging angel whose every action is imbricated in violence—the archetypal Fanatical Terrorist.
Undoubtedly, Guevara's life and legacy remains contentions throughout Latin America and the world. Che played a key role in the Cuban Revolution, and was pivotal in regime changes in Africa and South America.
In his early years, Guevara was born to a middle class family in Rosario Argentina. Despite a fairly normal youth, Che suffered from severe asthma. Regardless of this, Guevara stayed on top of his health, playing rugby, swimming, and engaging in other physical activities. He also received a top of the line primary education. The death of Guevara's grandmother in 1947 drove Che to study medicine, believing that the patient's state of mind is of the same importance as the medication they take.
Central America and the Motorcycle Diaries
At the end of 1951, Che set off on a motorcycle journey through South America with his friend Albert Granado. There, he kept a journal and published a book from his travels called "The Motorcycle Diaries". The trip showed him mass poverty and misery throughout the continent, which sparked his initial revolutionary sentiments.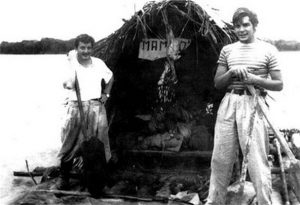 After finishing medical school in 1953, Guevara once again traveled through Central America, settling in Guatemala. A CIA overthrow of Guatemalan President Arbenz pushed Guevara into a brigade which attempted to divert the coup. Although the brigade was unsuccessful, Guevara took refuge in the Argentina embassy before securing a safe passage to Mexico.
While in Mexico, Guevara befriended Raul Castro. Soon thereafter, he was introduced to Raul's brother Fidel, who at the time was the leader of the July 26th movement. This force aimed to overthrow the Bautista Regime on the Island nation. The two were a perfect match- Castro needed a medical doctor to join his rankings, and Che was eager to offend any traces of American imperialism which he blamed for many of the shortcomings in Latin America.