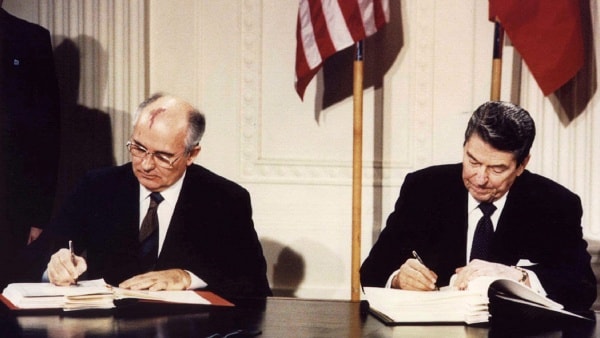 Tensions between Washington and the Kremlin are rising over reported violations of a 1987 missile treaty. The country has developed a new medium-range missile known as the SSC-8, which would enable Moscow to strike a variety of NATO countries at short notice. Russia has declined extensive commentary on their development, other than denying any breach of agreement.
What is the INF Treaty?
The Intermediate Range Nuclear Forces Treaty of 1987 is an arms control agreement between the United States and successor states of the former Soviet Union. The treaty was signed in Washington, D.C by President Reagan and Mikhail Gorbachev. The treaty effectively eliminated all nuclear and conventional missiles and accompanying launchers, with the exception of sea-launched missiles. By May of 1991, more than 2,600 missiles were eliminated and followed up with 10 years of on-site verification inspections.
Terminating the Treaty
On October 20th 2018, the United States announced its intention to pull out of the INF. The 31-year-old agreement was, at the time of its inception, a relief to neighboring European countries wary of potential attacks by post World War Soviet states. Despite the on-site inspections, classified intelligence coming out of Washington claims that Russia has been violating the treaty and secretly developing intermediate range missiles.
The last time the United States withdrew from a major arms treaty was under President George W. Bush in 2002, who left the Anti-Ballistic Missile Treaty which banned weapons designed to counter ballistic nuclear missiles. The Bush administration attempted to set a missile shield in Europe. This plan was later scrapped by Obama in 2009.
Experts estimate America's newest withdrawal as being the most severe nuclear arms crisis since the 1980s. Trump's national security adviser, John Bolton, pushed for US withdrawal. Under the terms of the treaty, US withdrawal will take place in six months.
President Trump issued the following statement:
"We're not going to let them violate a nuclear agreement and do weapons and we're not allowed to. We're the ones that have stayed in the agreement and we've honored the agreement but Russia has not unfortunately honored the agreement so we're going to terminate the agreement, we're going to pull out."
Because they were not party to the ratification, nuclear capable states including France and China still have access to building weapons of war which will be banned as soon as the withdrawal is complete.