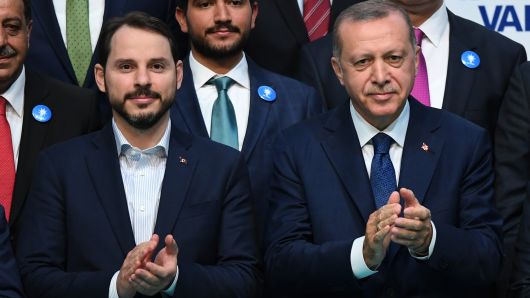 Berat Albayrak's appointment as the Minister of Finance in Turkey has rattled fears of nepotism and the conglomeration of power in Turkey's upper echelon. Despite promises to "propel the country forward," his opponents fear that this latest move has undermined the basic tenets of democracy.
Erdogan's Win
This newest presidential round marks a transition away from the office of prime minister and parliamentary system that has been in place for the past 95 years. With his new powers, Erdogan can appoint ministers, vice presidents and intervene in the country's legal system. In addition, he is now in full control of the executive system which allows him to control he army and the intelligence agencies.
The Dismantlement of Ataturk
In a sharp contrast to Ataturk- the secular founding father of modern-day Turkey who saw the country as a part of the west- Erdogan's clear religious nature seems divisive to the rest of the West. Hopes of joining the EU are dashed. Leaders who attended his inauguration included Hungary and Bulgaria, with the majority from the Middle East and Africa. This only reaffirms the country's new political alignment. Discussions in Turkey stand opposite one another- some see his rule as the coronation of a "New Turkey". Others see his power grab as the dismembering of Ataturk's republic.
Nepotism in the High Office
The promotion of Erdogan's son-in-law to finance minister has seen its fair share of global worry. The Turkish lira dropped 3% since the announcement was made. The global drop of the lira during the election cycle was painted by the Erdgoan administration as a "fight against Turkey". Criticisms about the jailing of journalists and officials who speak out against the president did not damper his win of 53% in last month's elections. Erdogan's last terms boasted a fairly strong economy and has a strong support base within the country.
The future of Turkey remains in the air. The power cluster made by Erdogan's newest term is an indicator of the political climate across Europe and the Middle East. How will his allies in the west respond to accusations of nepotism in this new office?