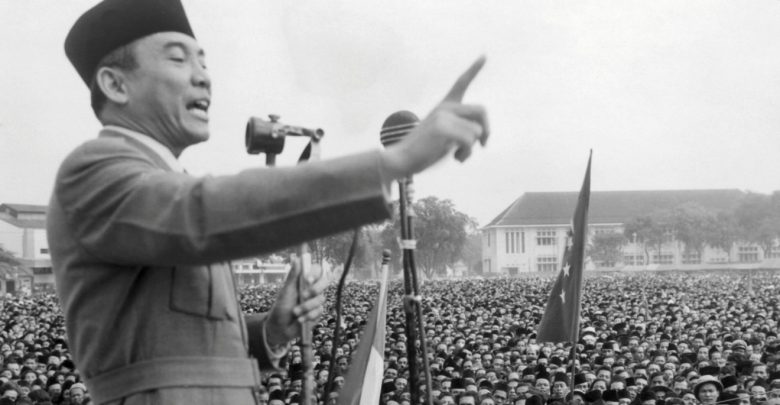 The Imperial invasion of the Dutch East Indies in 1942 began the colonial period of Japan in Indonesia. After the fall of Japan following World War II, nationalist movements began to gain traction in the country. Kusno Sosrodihardjo, better known as "Sukarno" was an Indonesian nationalist and leader best known for becoming the first president of Indonesia.
Sukarno was detained and jailed under the Dutch. When Japan invaded and occupied Indonesia, Japanese forces released Sukarno from detention and tasked him with rallying support towards Japan from the Indonesian public, which was seen by the Indonesians as liberation and fulfillment of an ancient prophecy by Jayabaya.
His cooperation with Japanese forces included formations of voluntary brigades of Indonesians which helped the Japanese in their war efforts. After the fall of the Japanese Empire on August 15th, 1945, Indonesia two days later claimed independence.
After the end of WWII, British troops entered Indonesia to accept the surrender of the Japanese military. They released imprisoned Dutch troops, and together with other Dutch troops which arrived soon, fought the Indonesian army. Although they found success in gaining control of major cities, Indonesian guerrilla brigades maintained control of the countryside.
During battles for the country's independence, a People's Republic of Indonesia was declared by left-leaning socialists and communists backed by Soviet support. The uprising of the group was quelled by Sukarno-related forces, and was a signal to the Americans that Sukarno was not a communist threat.
Neither the Dutch in the cities nor the Indonesians in the countryside would relinquish their positions. The end to the stalemate came when US President Truman threatened to cut off Marshall Plan aid to the Netherlands if the Dutch did not leave Indonesia. In 1949, they retreated, and Sukarno governed as the nation's first President.